O-RINGS
The O-ring is one of the most common sealing devices and is used in the most different applications. The design is unique and simple. They provide the designers with very effective and economically beneficial sealing components for a wide range of static and dynamic applications. O-Rings are vulcanized in moulds and can be used as both single and double sealing thanks to their symmetrical diameter. The sizes, materials, hardness and installation spaces are defined by the DIN 3770 or ISO 3601 standard.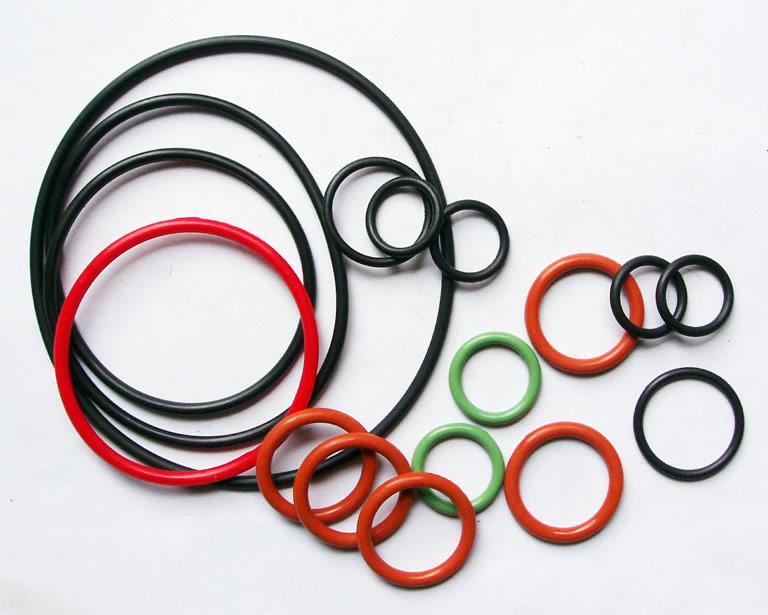 The list below provides an outline of various material groups of elastomers with the possible option of material hardness. Material and hardness selection depends on the following factors: size of the sealing joint, temperature, pressure and chemical composition.
NBR – nitril-butadiene-rubber 
FPM – fluorine-rubber (Viton) 
SI – silicone rubber 
EPDM – ethylene-propylene rubber 
PTFE – polytetrafluorine-ethylene (Teflon)
CR – chloroprene-rubber 
NR – natural rubber 
BU – butyl rubber 
CSM – chlorine-sulphon polyethylene-rubber (Hypalon)
X-RINGS
X-rings have been developed mainly in order to eliminate the twisting of rings in the groove. A square cross section with ring grooves forms a base. The width and thickness of these rings corresponds to the dimensions for conventional O-rings. This means that both types are interchangeable. The ring has a small contact area and for pressures of up to 40 bar, a lower friction than the O-ring.
The X-ring cannot roll, which means that it also cannot twist. A benefit of the X-ring when compared to the O-ring consists only in the fact that it is more suitable for rotary movements if shaft seals cannot be used. The service life of the rings depends on the quality of the friction areas.
Standard thicknesses of X-rings: 1,78;  2,62;   3,53;   5,33;   7,00