Stainless Steel Drums
Ideal for use in the pharmaceutical, chemical, nuclear, cosmetic, food and other hygienic industries, Harsh Steel Stainless Steel Drums provide a versatile and environmentally safe storage and transportation system.

Harsh Steel Open Top Drums are particularly suited to high value products where integrity of construction is key. Full material traceability documentation can be provided if required.
Open Top Drums Key features:
Available in 304 and 316L Stainless Steel
Drum Sizes from 10 ltr (2.6 Gallon) to
400 ltr (105.7 Gallon)
Wall thicknesses of 1.2mm or 1.5 mm
Crevice and pit free hygienic construction
Brushed finish as standard(other polished and mill finishes also available)
UN Certified where required
GMP compliant design
Clampbands can be secured or tab-sealed for identification and tamper evidence
Lids and clamp band assemblies are simple to use
'O' ring lid seals fit snugly but are easily removed for cleaning or sterilization
Straight sided or swaged as required
Long service life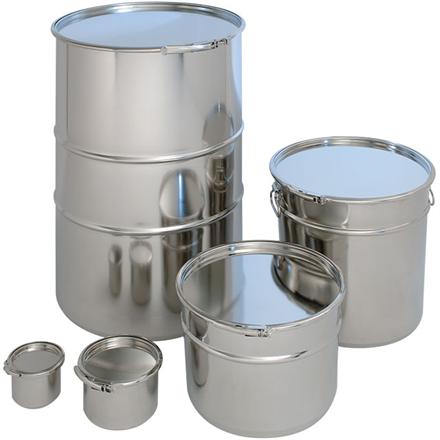 Stainless steel clampband with quick release (other options available)
Stainless steel 'O' ring type lid
'O' ring lid seal (various materials available)
Fully welded GMP correct solid bar rim (Pressed top curl also available)
Optional body swages, for use with mechanical handling systems. Positioned to suit your application
Fully welded construction throughout (various polished & mill finishes available)


Stacking type base
Drum diagram and table key: (a) Internal diameter (b) Internal depth
Our standard range of drums are available in the sizes shown in the table below. Other sizes are available for large quantities and our sales team will be happy to provide prices to your exact requirements.
OPEN TOP DRUMS
DRUM LIDS
DRUM SEALS
DRUM CLAMPS
Capacity
Part No
a(mm)
b(mm)
Part No
Part No
Part No
10 ltr
HS-33
218
330
HS-41
HS-49
HS-57
25 ltr
HS-34
305
400
HS-42
HS-50
HS-58
50 ltr
HS-35
400
450
HS-43
HS-51
HS-59
100 ltr
HS-36
457
750
HS-44
HS-52
HS-60
150 ltr
HS-37
560
670
HS-45
HS-53
HS-61
200 ltr
HS-38
560
895
HS-46
HS-54
HS-62
300 ltr
HS-39
750
750
HS-47
HS-55
HS-63
400 ltr
HS-40
750
1000
HS-48
HS-56
HS-64
Enquiry for Stainless Steel Funnels and Stainless Steel Strainers