Pneumatic Sanitary Flanged Butterfly Valves:-
Pneumatic Sanitary Flanged Butterfly Valve is a pneumatic actuator operated sanitary butterfly valves with flanged end. We provides full line pneumatic butterfly valve with flanged ends from 1/2″ to 12″ in stainless steel T304, T316L etc. The air actuator can be assemblied upon client's request, either of China origin or EU/USA brand. Sanitary butterfly valve is our strength sanitary valves , it comply with 3A, DIN, SMS, ISO, DS standards etc, it is widely used in process piping systems for isolation and control.

Options of Pneumatic Butt Weld Butterfly Valve
Stainless steel T316L, T304 etc, body and disc is forged.
EPDM, NBR, VMQ or FPM, which all confirm to standard of FDA 177.2600
Butt-welding to DIN, SMS, 3A etc.
Pneumatic stainless steel actuator (vertical type).
Position sensor, C-TOP controller, C-TOP controller(AS-I)
---
Operation of Air Actuator
Vertical type, stainless steel 304 material actuator or horizontal type.
NC/NO/AA operation for choose from.
Normally Closed (NC) – Air to open and spring to close.
Normally Open (NO) – Air to close and spring to open.
Air to Air (AA) – Air to open, air to close.
Supply Pressure of Air Actuator: 70 ~ 115psi (5-8 bar).
Surface Finish: Ra 32μin (0.8μm) commonly, or higher upon request.
---
Application
Pharmacy, Beer, Food, BioPharm, Dairy, Beverage, Biotech, Cosmetics etc.
Pneumatic Actuated Sanitary Butt Welded Butterfly Valves Specification

PRODUCT
Pneumatic Sanitary Butt-weld Butterfly Valve
DIMENSION
1/2″ ~ 12″
MATERIAL
T304, T316L, 1.4301, 1.4404 etc.
STANDARD
3A, DIN, SMS etc.
End Connection
Flanged
SEALING GASKET
EPDM, NBR, FPM, Silicone etc.
TEMPERATURE
-10°C / 14°F up to +120°C/ +248°F (EPDM)
Pressure
0.2 – 10bar
Operation
Pneumatic actuator
APPLICATION
Pharmacy, Beer, Food, Petroleum, Dairy, Beverage,Biotech ,Cosmetics etc.
How to order

*Part Name

*Size

*Material

*Quantity

*Standard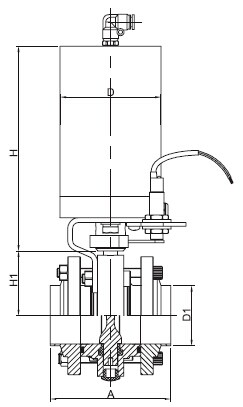 Dimension of Pneumatic Sanitary Butt Weld Butterfly Valve – DIN Series
SIZE

D

A

H

H1

D1

1

2

DN10

86

50

182

41

12

13

DN15

86

50

182

41

18

19

DN20

86

50

182

41

22

23

DN25

86

50

182

41

28

29

DN32

86

50

182

45

34

35

DN40

86

50

182

47

40

41

DN50

86

50

182

55

52

53

DN65

86

56

182

64

70

-

DN80

86

56

182

71

85

-

DN100

86

64

182

81

104

-

DN125

133

74

300

116

129

-

DN150

133

80

300

136

154

-

DN200

133

88

300

171

204

-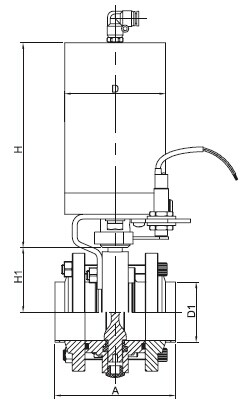 Dimension of Pneumatic Sanitary Butt Weld Butterfly Valve – 3A, SMS, ISO, DS Series
| | | | | | |
| --- | --- | --- | --- | --- | --- |
| SIZE | D | A | H | H1 | D1 |
| 1/2″ | 86 | 50 | 182 | 41 | 12.7 |
| 3/4″ | 86 | 50 | 182 | 41 | 19 |
| 1″ | 86 | 50 | 182 | 41 | 25.4 |
| 11/4″ | 86 | 50 | 182 | 41 | 31.8 |
| 11/2″ | 86 | 50 | 182 | 45 | 38.1 |
| 45 | 86 | 50 | 182 | 47 | 45 |
| 48 | 86 | 50 | 182 | 49 | 48 |
| 2″ | 86 | 50 | 182 | 53 | 50.8 |
| 57 | 86 | 50 | 182 | 55 | 57 |
| 21/2″ | 86 | 52 | 182 | 59 | 63.5 |
| 3″ | 86 | 56 | 182 | 66 | 76.2 |
| 3.5″ | 86 | 60 | 182 | 71 | 89 |
| 4″(S) | 86 | 64 | 182 | 79 | 101.6 |
| 4″(L) | 86 | 64 | 182 | 81 | 101.6 |
| 108 | 86 | 64 | 182 | 81 | 108 |
| 114 | 86 | 64 | 182 | 81 | 114.3 |
| 5″ | 133 | 80 | 300 | 116 | 127 |
| 133 | 133 | 80 | 300 | 116 | 133 |
| 6″ | 133 | 88 | 300 | 136 | 152.4 |
| 159 | 133 | 88 | 300 | 136 | 159 |
| 168.3 | 133 | 88 | 300 | 136 | 168.8 |
| 8″ | 133 | 88 | 300 | 171 | 203.2 |
| 219 | 133 | 88 | 300 | 171 | 219 |
Enquiry for Pneumatic Sanitary Flanged Butterfly Valves