Full-Cone
Harsh Steel Full cone spray nozzles give a uniform circular and square shape sprays. These nozzles are precisely designed and manufactured to close tolerances for uniform spray distribution and reliable performances. These nozzles are made available in 2 fundamentally different swirling principles. The Axial Full cone & The Tangential Full cone.
The axial full cone has an 'X' shaped insert that enables uniform distribution, reduces clogging and produces wide angles. Its main function though is controlling the discharge and spray angles.
The Tangential entry full cone is a unique design without any inserts thus making it clog resistant. This is made possible due to the wide inlet and outlets, which creates a maximum free passage for the liquid. All this is achieved without any distortion or fluctuation in the spray.
End connections: These nozzles are available in screwed end connections to a maximum of 4" BSP / NPT − Male / Female whereas larger sizes are provided with flanged end connections.

Material of construction usually being Brass, S.S., Hastalloy, P.T.F.E. or any other machinable material as per process requirements. These nozzles find application in cooling quenching, coke, dust suppression, scrubbing of flue gases, removing of fly ash etc.
AXIAL FULL CONE
These nozzles give a circular spray pattern. The uniform distribution is throughout the circular area. The 'X' shape insert imparts a rotational speed to the fluid and thereby controlling the discharge and spray angle.

FULL CONE − SQUARE
The Square pattern full cone nozzle is similar to the conventional full cone nozzle. The only distinguishing feature is the notch machined in a cross pattern on the nozzle inlet or a square flat machined within the periphery of the nozzle inlet depending on the spray coverage required. This profile produces the square spray pattern.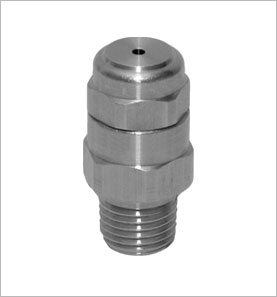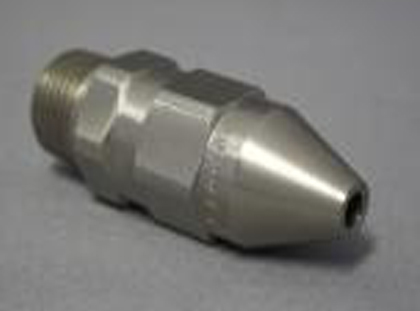 FULL CONE FLANGED END
The Flanged end Full cone nozzles are used mainly where very high flow rates at very low pressures are desired and which cannot be accommodated in conventional thread sizes.
FULL CONE NARROW ANGLE
Narrow angle Full cone nozzles − produce a very high impact spray jet with deep penetration effect. They are available in 2 piece and 3 piece constructions.
TANGENTIAL ENTRY NON CLOGGING FULL CONE
The tangential full cone nozzles, have been provided with an eccentric hole at their inlet. Their design geometry provides a well balanced uniform atomization.
Absence of any inserts and large free passage prevents the nozzle from clogging.

Application: Washing and cooling of gaseous and solid fluids, surface spraying and other washing and cleaning processes.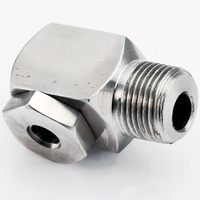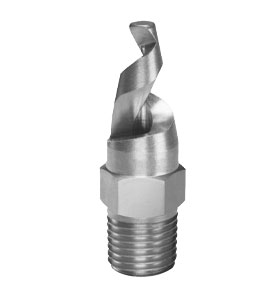 SPIRAL FULL CONE 
Spiral nozzles are designed uniquely to deliver fine high velocity sprays at comparatively low pressures. The uniform distribution of spray droplets is mainly due to the precisely designed high impact blade angles. The special features of these nozzles are that they give high energy efficiency, very fine atomization. Absence of any inserts provides more space making it clog resistant thereby resulting in high discharge velocity even at a relatively smaller size. 

For large flow capacity and maximum sized impurities to pass the Spiral Full Cone with large free passage has been developed. In this design the inlet bore is proportionately smaller than the helical free passage. This ensures large flow rates and maximum sized impurities could pass through the flow without clogging the nozzle.

Spiral nozzles are made available in Full cone and Hollow cone pattern too.

These nozzles find application in pollution control, cooling or aeration application, flue gas scrubbing, gas cooling, washing and rinsing, fire suppression and prevention etc.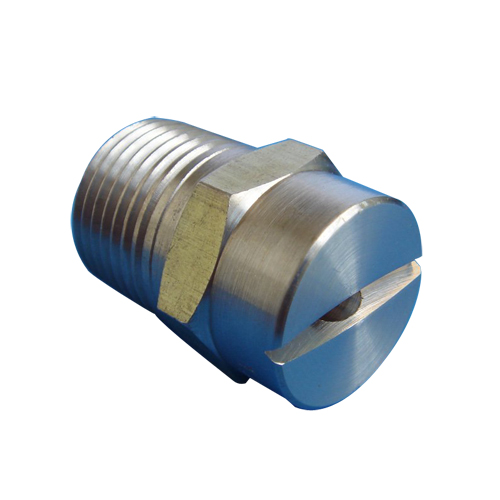 FULL CONE NOZZLE RIGHT ANGLE ENTRY
An Axial Full Cone nozzle is mounted on a square body. This allows the nozzle to spray at an axis of 90° to the axis of the inlet end connection.

FULL CONE WITH SWIVEL BALL JOINT
The Swiveling ball joint assembly allows the nozzles to be clamped in any desired position for exact control of spray direction. Any nozzle i.e. FULL CONE, FLAT FAN, HOLLOW CONE can be fitted on the swivel ball. The Ball can be rotated in any position in a angle of 60°. The desired position is maintained by tightening the retainer nut.

The end connection is 1/8" 1/4" & 3/8" BSP / NPT, Male / Female. M.O.C.: BRASS & S. S.
Enquiry for Full Cone