FLAT FAN INTRODUCTION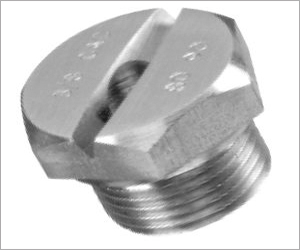 Harsh steel FLAT FAN NOZZLES give a uniform curtain shaped flat spray with tapering edges reducing water droplets from medium to fine size. These nozzles have elliptical orifices, which are designed machined and manufactured to close tolerances to ensure desired flow and performance. 

The low flow rate ensures good atomization whereas powerful jet impacts are achieved by higher capacities and narrow angle. Absence of inserts makes it insensitive to impurities thereby avoiding clogging. However spray tips with low flow rates for applications such as moistening, misting, humidification etc. are used in conjunction with strainers to avoid clogging.

These nozzles are also made available in single piece to 3 piece construction to ensure easy and fast handling. Single piece being threaded end connection nozzle ranging from 1/8" BSP / NPT − M/F to 3" BSP / NPT − Male / Female, whereas 3 piece is a spray tip being used in conjunction with a nipple, strainer and retainer nut. 

High velocity descaling dovetail tips are ideal for cleaning applications in steel industries where a powerful impact water jet is required. These nozzles can withstand pressures up to 200 bar producing hard hitting edges. The material of construction of these nozzles is usually being Tungsten carbide or H.S.S.

Material of construction for Flat Fan Nozzles can range from Brass, S.S., Hastalloy, P.T.F.E., H.S.S. etc to any other machinable material. 
Application: These nozzles find wide application in descaling, cleaning, degreasing, washing, spray washing, rinsing, cooling etc.
Flat fan
These nozzles give a uniform curtain shaped flat spray tapering to the edges. The elliptical orifice delivers a sharp knife like spray edge. 

Application : High impact cleaning, filter cleaning, degreasing etc.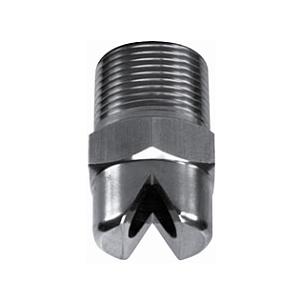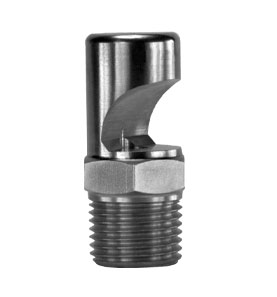 Wide angle flood jet
The These nozzles have a low clogging risk, delivering a wide angle flat spray with medium impact and uniform spray. The controlled deflection angle enables fixing the nozzle in a desired position for any required application. 

Application: Cooling conveyor belts, filter washing, coating etc.
Narrow angle flood jet
These nozzles have a low clogging risk and owing to the narrow angle the jet energy concentrated is at a lesser area thereby increasing the impact pressure remarkably. The controlled deflection angle enables fixing the nozzle in a desired position for a required application's 

Application: High impact washing, degreasing, phosphating etc.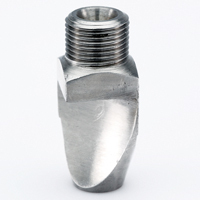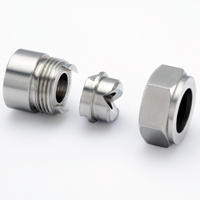 Descaling nozzle tips
Descaling tips are mainly provided with a dovetail, which help in easy installing and fixed orientation. Their uniform spray pattern can well be noticed on a spray header. They are used in conjunction with weld necked dovetailed nipples and retainer nuts. 

Application: Descaling.
Flat fan tips
Flat fan spray tips are usually recommended for easy and low cost installation. They are used in conjunction with threaded nipples, strainers and retainer nuts. 

For better atomization, mists etc we have further developed low flow rate Flat Fan polyacetal tips used in conjunction with filters & retainer nuts. The spray angle of these tips vary from 60° to 80° and flow rate from 0.15 lpm to 2.0 lpm @ 3.0 bar differential pressure 

Application: Spray coating, spray cooling, humidifying, misting, degreasing, pressure cleaning etc.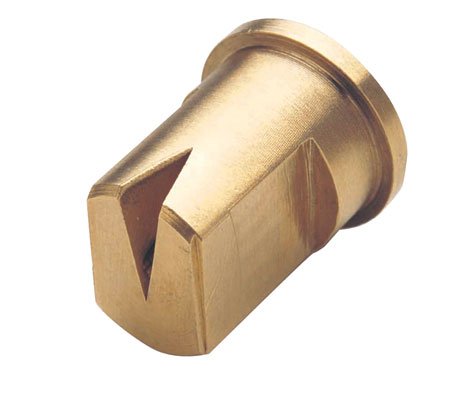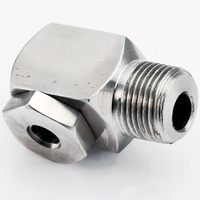 Scalemaster
This is an improvised version of conventional descaling nozzles. The construction of this nozzle is made up of a welding nipple in which flat fan jet nozzle can be fitted in a fixed orientation. This tip is clamped with the retaining nut. An inbuilt stabilizer provided above the tip helps in improving better surface quality consuming less water and energy and allowing low maintenance and operating costs. 
Flat jet with swivel ball joint
The Swiveling ball joint assembly allows the nozzles to be clamped in any desired position for exact control of spray direction. Any nozzle i.e. FULL CONE, FLAT FAN, HOLLOW CONE can be fitted on the swivel ball. The Ball can be rotated in any position in a angle of 60º. The desired position is maintained by tightening the retainer nut. 

The end connection is 1/8" 1/4" & 3/8" BSP / NPT, Male / Female. M.O.C.: BRASS & S. S.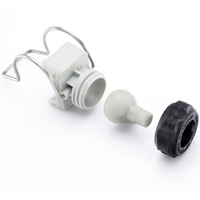 Enquiry for Flat Fan