Accessories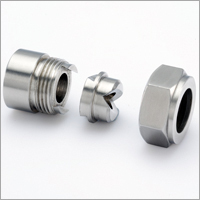 Scalemaster
This is an improvised version of conventional descaling nozzles. The construction of this nozzle is made up of a welding nipple in which flat fan jet nozzle can be fitted in a fixed orientation. This tip is clamped with the retaining nut. An inbuilt stabilizer provided above the tip helps in improving better surface quality consuming less water and energy and allowing low maintenance and operating costs.
Swivelling Ball Joint
The Swiveling ball joint assembly allows the nozzles to be clamped in any desired position for exact control of spray direction. Any nozzle i.e. FULL CONE, FLAT FAN, HOLLOW CONE can be fitted on the swivel ball. The Ball can be rotated in any position in a angle of 60°. The desired position is maintained the tightening the retainer nut.
HOLDER AND NUT FOR DESCALING TIPS

As the name suggest this assembly is used in conjunctions with Dovetail Descaling Tip. This tip is fitted on to the welding nipple and clamp with the help of the retainer nut. The other end of the nipple is welded on to the header. The dovetail provided in the welding nipple gives a fixed orientation to the spray of the tip. This tip is manufactured for easy installation and low cost.
HOLDER & NUT FOR TIPS

This assembly is used in conjunction with full and flat fan tip. This assembly effectively. Reduces cost and is easy to install. 


SPLIT END EYELET

Split eyelet connections provide a fast economical way of fitment. These can be fitted on various pipe sizes by drilling a hole in the pipe same as provided in the eyelet. The eyelet can be clamped with the two screws provided on either side. The spray tips can be fitted on the body and clamped with the help of a retainer nut.
Enquiry for Accessories